Company History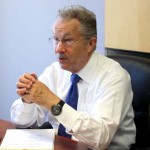 Founded in 1990 by Floyd G. Larson, a respected leader in biomaterials and implantable medical devices, PaxMed International originated to assist medical device companies with development and characterization of biomaterials used in implantable devices.
Since then, PaxMed has grown steadily in expertise and staff, responding to client needs. Our international clients are located around the world; from Sweden to Japan and Israel to Brazil. PaxMed has remained focused exclusively on support for developers and manufacturers of medical devices. Our key objective is to benefit our clients by directing and implementing market-oriented regulatory strategies, clinical research, manufacturing implementation, and quality system development. Our goal is to continue assisting medical device companies in successfully bringing their innovations to market in a timely and cost-effective manner.
PaxMed International's Vision: In serving our clients, their customers, patients and regulatory authorities, we strive to honor God with our values, actions and words; to improve patients' quality of life; to pursue excellence, and to grow profitably.